ZULA Team Tries: Bear Fruits Hair Mask + Cap
Besides handsome love interests and chic outfits, another must-have for female leads in K-dramas is effortlessly soft, shiny and luscious hair. Cue Bae Suzy from Start-Up and Son Ye Jin from Crash Landing on You. While Nam Joo Hyuk and Hyun Bin are a tad out of reach for us mere mortals, soft and bouncy hair is, thankfully, much more attainable. Enter Bear Fruits Hair Mask + Cap. As its name suggests, the hair mask comes with a shower cap for an Instagram-worthy home salon experience.
There are 6 variants in total to address different hair concerns. Avocado, for example, looks to nourish and repair damaged hair, while Grapefruit aims to provide antioxidants and bounce. We asked 4 girls to review a different hair mask each to see if these adorable hair masks live up to their claims.
1. Vivien uses the Avocado Hair Mask + Cap
"I've bleached and dyed my hair many times, so the bottom part of my hair feels like dried grass. Because of all the bleaching, I've had to deal with hair breakage too.
I'm trying the Bear Fruits Avocado Hair Mask + Cap, which is supposed to repair and nourish damaged hair. Hopefully, the mask will help make my hair look less frizzy and dry, especially at  the ends."
First impressions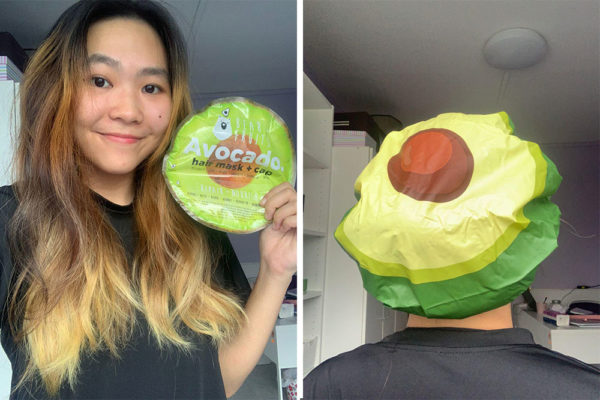 "The shower cap looks like a cross-section of an avocado and is super adorbs. The mask itself was also green like an avocado! Texture-wise, it was smooth and creamy, and I was able to easily apply it onto my hair. It had a pleasant, sweet scent that was not overbearing at all." 
Midpoint check-in
"The instructions said to wash your hair, apply the mask and put on the shower cap, then leave it on for 30 minutes. During that time, I watched a few YouTube videos and scrolled through social media. The shower cap fit snugly on my head, so I didn't have to worry about it sliding off when I walked from the bathroom to my room or when I was chilling."
After removing the mask
"I only had to rinse and run my fingers through my hair for a minute or two at most to wash off the mask. I let my hair air dry for about 2 to 3 hours after I washed it off and it was a lot softer, shinier and way less dry than before. 
My hair usually feels quite rough when I comb through it and it gets tangled easily, but after using the mask, it was very smooth. There was also noticeably less frizz at the bottom."
Final thoughts
Before (left) and after (right) using the mask
"Overall, I think the mask worked great on my hair. It was frizzy and dry before but it looked shinier and felt smoother after. I think this product would help those like me, with dry and damaged hair after countless rounds of bleaching and dyeing."
2. Chloe uses the Grapefruit Hair Mask +  Cap
"My hair is permed but not coloured. While it's not damaged, the heat has not been kind to my hair. It's nice when I first wash it, then gets more flat throughout the day. All I want is nice, perfect, bouncy and curly hair all the time. 
I'll be putting the Bear Fruits Grapefruit Hair Mask + Cap to the test, which is said to make your hair feel bouncy. I'm looking forward to my hair looking soft, curly and bouncy after using the mask."
First impressions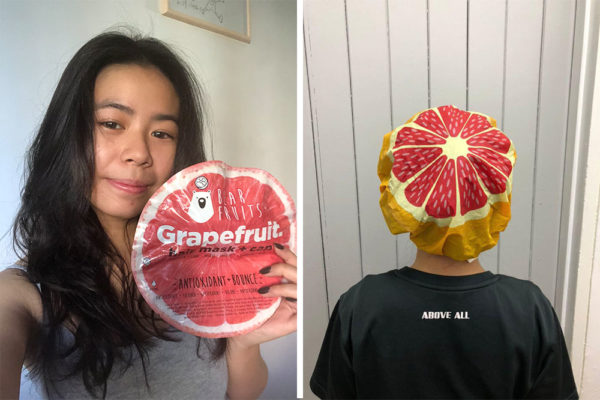 "Firstly, I think the concept is genius. I had a big laugh because my head was covered by an obnoxiously cute and huge grapefruit. Scent-wise, it was fruity and had a refreshing citrus smell. The mask itself was really thick and creamy but did not feel unnecessarily heavy. I was surprised at the generous amount of product provided per sachet too." 
Midpoint check-in
"I usually avoid hair masks because I have to sit there for however long the instruction states but this was really easy to use. During the 30 minutes of the trial, I just went along my merry way. The hair cap stayed on throughout and honestly, I even forgot I had it on. 
I also took selfies of the mask on my bed. Normally, I'd be quite particular not to get random things dripping on my bed but with the mask in the hair cap, there was no dripping or leakage at all." 
After removing the mask
"While I was rinsing my hair, I noticed that my curls were stronger than usual, even when my hair was still wet. 
I proceeded to let my hair air dry without doing my usual hair routine such as applying serums. My hair felt so much lighter and bouncier, not just with better-shaped curls, but I felt an overall lift in volume from the roots up. My hair also looked visibly less frizzy and out of control." 
Final thoughts
Before (left) and after (right) using the mask
"I am pleasantly surprised with how the results turned out. I was tasked to try this particular mask to see if I would get bouncier hair and, true to what Bear Fruits promised, I did get that result. 
Considering how simple it is to use (not to mention the ridiculously adorable packaging), I'd absolutely use this again! For others who struggle with frizzy and flat hair, this is a simple and fuss-free fix to get your hair looking put-together again."
3. Yi Hui uses the Coconut Hair Mask + Cap
"I'm happy with how my hair feels and looks most of the time but it sometimes lacks shine, especially after using a curling iron. I also have a lot of baby hair, which is quite hard to tame and makes my hair frizzy at the top. 
The Bear Fruits Coconut Hair Mask + Cap claims to make your hair feel hydrated, moisturised and soft to the touch. I'm hoping it will tame the top part of my hair and add more shine."
First impressions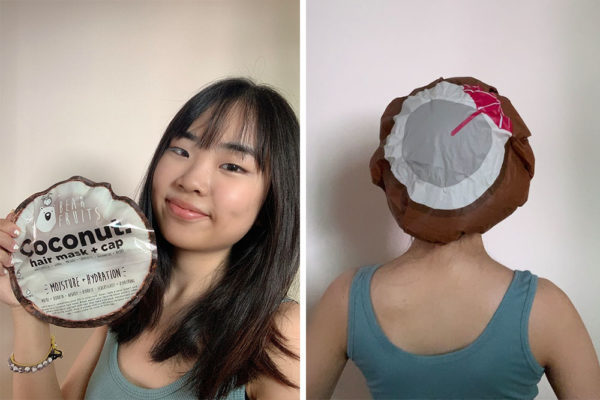 "The cap gave me tropical vibes, with a pink umbrella in a coconut. It was very comfortable too. Once I tore open the packaging, I could smell the fragrant scent of coconuts. The texture of the mask itself was thick and creamy. 
Pro-tip: keep a pair of scissors in your bathroom when using this mask, so you can easily access the shower cap and squeeze out as much of the mask as possible."
Midpoint check-in
"I put on the mask at lunch time, so I ate my lunch and rested on my couch with the shower cap on. Surprisingly, I didn't leave any little puddles behind even though I was also walking around taking selfies to upload on Instagram."
After removing the mask
"Rinsing off the mask was a breeze; it didn't leave a greasy residue on my hair and roots. Once I washed it off and let it air dry, my hair felt very soft, to the point where I couldn't stop touching it throughout the day. My hair looked like it had a little more shine than before and was less frizzy overall—and it smelled very good too!" 
Final thoughts
Before (left) and after (right) using the mask
"The mask achieved what it set out to do, which was to leave my hair feeling moisturised and soft to the touch. I wasn't expecting it to feel so soft, especially since I felt that my hair was already pretty soft to begin with. 
I would use the mask again because it made the top part of my head less messy and frizzy. IMO, this hair mask would be suitable for people with dry hair or simply need a quick pampering sesh." 
4. Syiqin uses the Flamingo Hair Mask + Cap
"My hair feels a little rough, looks dull and has a lot of split ends. It'd be good if using the Bear Fruits Flamingo Mask + Cap will make my hair look shiny and feel smooth from root to end."
First impressions
"The flamingo cap was very cute and put a smile on my face immediately. The hair mask had a very pleasant smell, a mix of fruity and sweet. It had the scent of argan oil too. The texture was thick and it was easy to apply onto my hair."
Midpoint check-in
"I used the mask before bedtime, and left it on as I brushed my teeth and prepared my work clothes for the next day. The shower cap fit well, and it didn't interfere with my routine at all." 
After removing the mask
"The hair mask was easy to wash off. After using it, I could see the results instantly. My hair was shinier, felt lighter and more smooth. The fruity and sweet smell also lingered until the next morning."
Final thoughts
Before (left) and after (right) using the mask
"I was skeptical at first, but was pleasantly surprised to find that there were instant results in terms of texture and smell. The hair mask would be good for those who haven't gone to get a hair treatment at the salon in a while and are looking for a quick, affordable fix to provide a boost for their hair." 
We Tried Bear Fruits Hair Mask + Cap For A DIY Home Salon Treatment
From dry hair to flat curls, these 4 girls started the trial with different hair concerns. By the end of it, each of the 4 Bear Fruits Hair Masks + Caps lived up to their claims and gave the girls their desired results. 
Bear Fruit Hair Mask + Cap comes in 6 variants, so you can pick the ones that best target your specific hair concerns.
Those with damaged hair can turn to the Avocado mask, which has avocado extract to nourish and repair your tresses. 
The Flamingo mask contains aloe vera and argan oil to help you achieve the soft and smooth hair of your dreams. 
You can also opt for the Coconut mask, with coconut extract to moisturise and hydrate dry hair. It even smells like coconut too, so you can close your eyes and almost imagine you're on a beach vacation. 
And, if you're looking to revive your curls, look to the Grapefruit mask for luscious, bouncy waves out of a K-drama, thanks to the antioxidant-rich grapefruit extract! 
Besides being great for your hair, Bear Fruits' Hair Mask + Caps also come with a reusable shower cap to level up the pampering experience. Bring some along to your next slumber party, and have fun snapping wefies with the girls as you treat your hair to some TLC.
Bear Fruits' Hair Masks + Caps are retailing for $14.90 each. You can pick them up at Guardian stores or on Guardian's website at a special price of $10.50, for yourself and for your BFFs too. 
This post was brought to you by Bear Fruits.
Photography by Pichan Cruz.
Also read:
9 Korean Hairstyles Inspired By Recent K-Dramas To Show Your Hairstylist On Your Next Salon Visit